A few steps from the sea and the mountains
The location of Villas Blancas Lanzarote will let you access Papagayo Beach (11 km), Timanfaya National Park (16.6 km), or the cosy village: Yaiza (15.8 km). This is an exclusive natural environment with gastronomic and leisure variety at your disposal. Our hotel is located half an hour by car from Lanzarote Airport (11 km).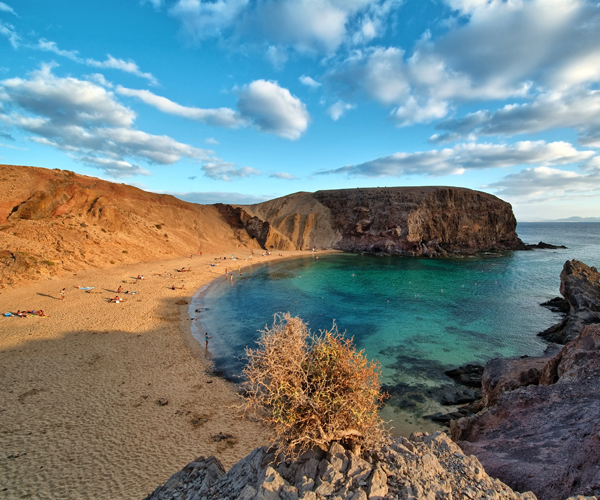 A unique land
If you feel like exploring the area during your stay, you will find white sands, crystal-clear waters and solidified lava five minutes ashore. We recommend you Papagayo Beach, a natural and protected spot 8.5 kms from Blanca Beach. In the opposite direction, you will find Timanfaya National Park, with extraordinary shades of black and red and dozens of volcanoes, as the Montañas de Fuego.
The special feature of the terrain of the island means that there is a series of unique natural enclaves: Los Hervideros, la Cueva de los Verdes, La Geria or las Salinas de Janubio, amongst others. We invite you to explore lava fields, volcanic ashes and exotic flora.
The proximity to the coast offers the possibility of practising windsurfing, scuba-diving, fishing or other watersports. If you prefer activities outside of the water, you can enjoy Lanzarote Golf Club, which is just 30 minutes away by car. The mild climate, with a large number of sunlight hours almost throughout the entire year, will guarantee you a perfect stay.